Description:
Mithril wants to cut the middle man and revolution the mobile game ad industry. Its is also one of the first application using the EOS platform. In a nutshell, they want the gamers to install their application that will communicate with the games, collect data which will be used by the game developpers to learn from the gamers and better adjust their products and target the right users for their campaign. In return, the gamers will be rewarded with the Mithril token.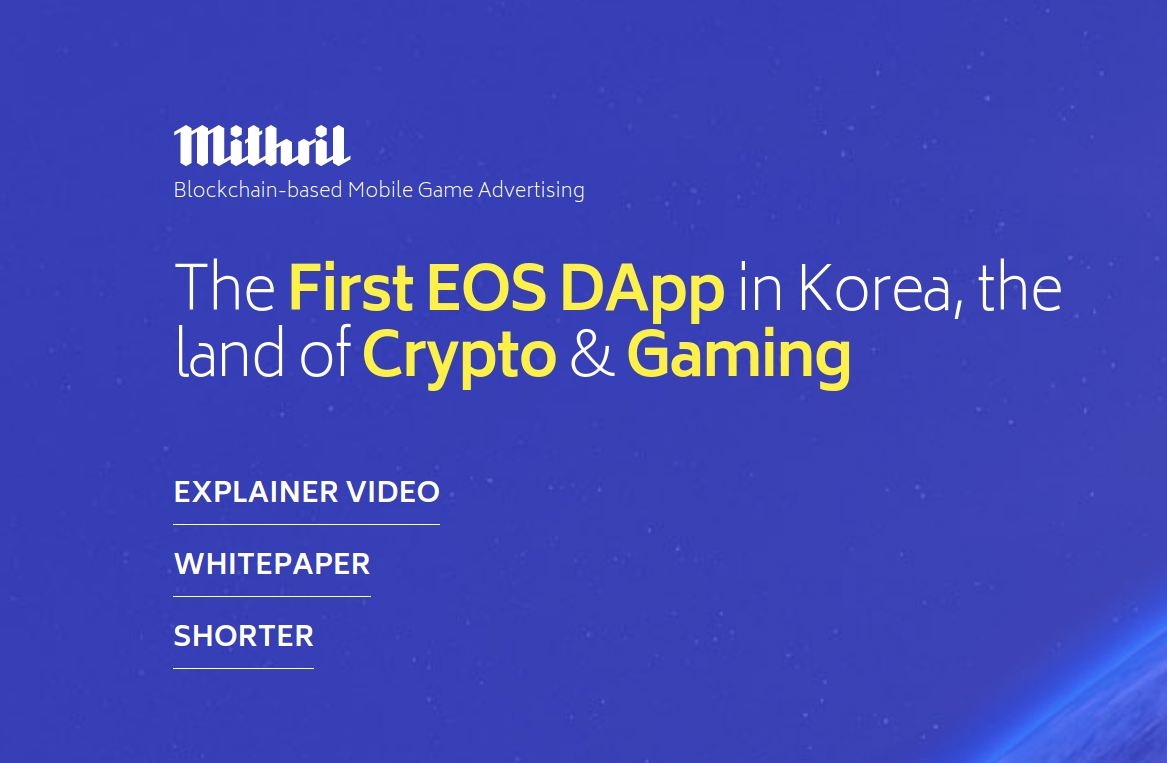 Mithril copyright
Strengths
Situation
- Existing gigantic market: $46 billion in 2017
- Game Advertising in dire need of simplification, competitive fees and efficiency
- Traditional advertisement wasted with skyrocketing usage of Ad Blocks
- Reduced profit for game companies leading to more in-game paid adons/ads threatening the game play
- Data key to understand gamer behaviors
Platform and application
- Platform based on EOS with fast (2-3 sec) no fee transactions
- Mithril Play app for gamers who accept to share their data in exchange for MTR tokens
- Peer to Peer Verification process and vesting period to avoid fraudsters
- Gamers can use their tokens to buy game items or cash them out
- Permanent rewards for gamers across all games leading to increased interest
- Mithril Ad-Control application for game companies to pay in MTR tokens for the data, create marketing campaign and target gamers
- The game companies will be able to directly interact with the users
- Advertising directly targeting active users
- Saving 30% on advertising costs
- Platform revenue shared with gamers
- Additional services: game crowdfunding, game statistics, payment service, free marketing for selected small and medium developers
Token
- ICO: min goal $3M, max goal $16M, small compared to other tokens like GameCredits ($73M) or AdEx ($50M)
- Proceeds split: 50% contributor, 20% dev team, 10% early investor, 20% reserve.
- Total supply of 400 millions
Website/Team/Whitepaper
- Website complete with the problem, solution, whitepaper, team, roadmap, ICO, and social media
- Members of the team seem to have strong backgrounds
- Complete whitepaper both in terms of fundamentals and technicals
Weaknesses:
- No existing product yet
- Play app only to be released in Q4 2018 and Ad-Console app in Q2 2019
- No date yet for the ICO
- Weak activity on their github
- Not much information coming from independent sources other than their own website
Recommendation:
The project has a lot of potential IF it can be pulled off by the team and the platform can gain popularity with gamers and gaming companies. The absence of a functioning product is a weakness but not unusual at this stage. Their goal is to raise between 3 and $16M is certainly achievable and small compared to other tokens so one could expect the price to increase possibly a few folds when it hits an exchange. As a long term investment, I would wait to see if they hit the first few milestones on their roadmap before investing. As usual, do you own research before investing. I'm not a financial advisor.
Post initially published on Steemit